Afdhel Aziz was a journalist, radio DJ, TV producer and writer in Colombo for many years.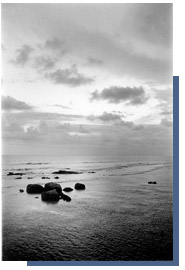 After graduating from King's College London with a degree in English Literature, he returned to Sri Lanka to work in the media industry. Writing as 'The Chunky Monkey' in the Sunday Times he reported on Colombo's cultural life, as well as writing weekly columns on film and music.
At TNL Radio, he did a stint as the voice of 'The Morning Zoo' and also co-hosted the groundbreaking Friday night ''The Completely Different Radio Show". At YATV, he was the writer and presenter on shows such as 'YA Café' and 'YA News'.
He was also a writer for such titles as 'Explore Sri Lanka' and 'Serendib'.
After leaving Sri Lanka to do a Masters in Media at the London School of Economics, he went on to a career at Procter and Gamble UK, working on Max Factor and Vidal Sassoon.
After getting bored with flogging hair and make up products, he
decided to return to his first love, media. He now works for leading UK media company EMAP, where he is the Brand Manager on Kiss 100, London's market leading station for young people, and Mixmag , the bible of dance music and club culture. He is currently working on his second book, a novel.
For more information on China Bay Blues, email him on: AfdhelAziz@yahoo.com